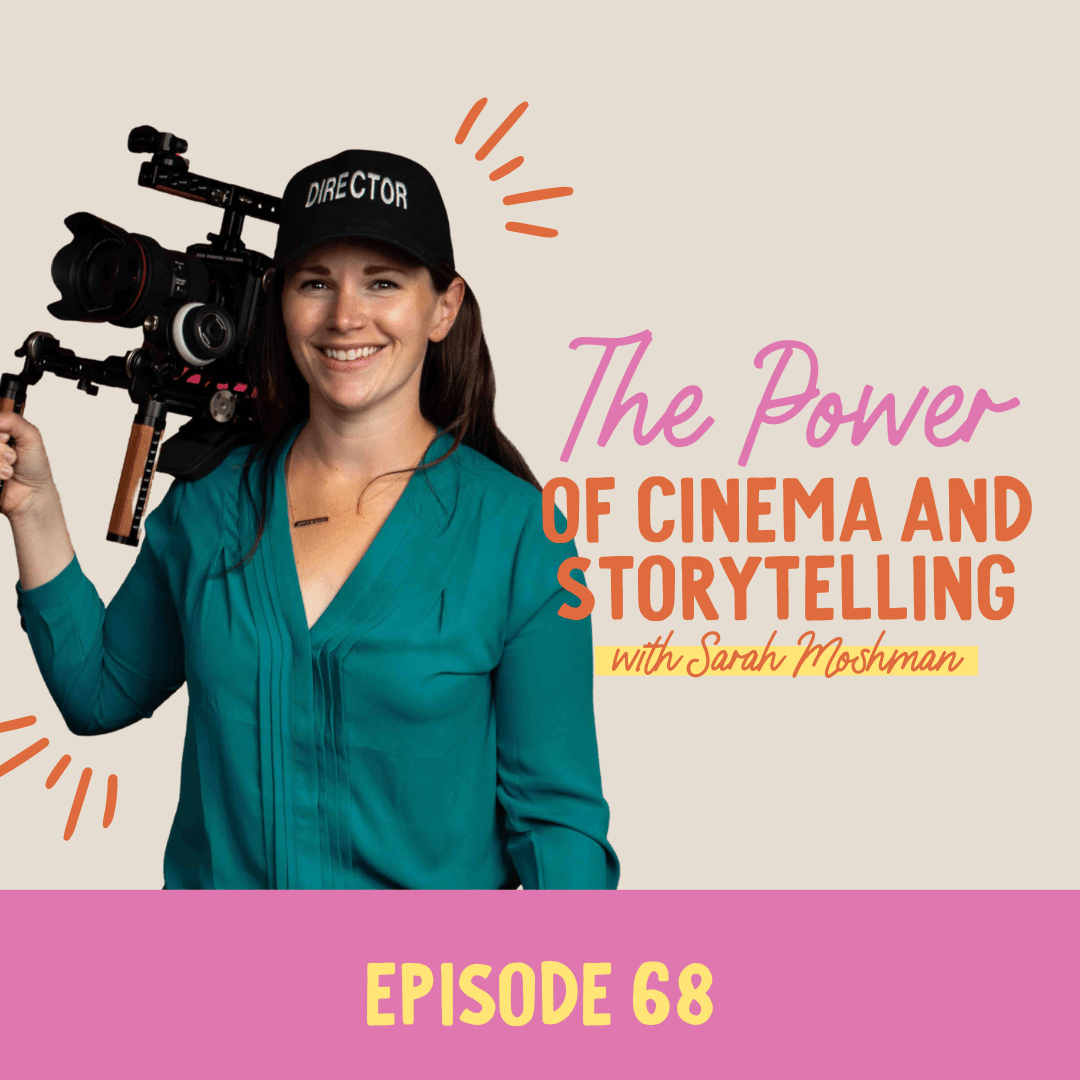 Episode 68- Sarah Moshman
IN THIS MEETING, WE CHAT ABOUT:
Making an impact and empowering others through cinema and stories.

Taking risks and fostering your courage for something bigger than yourself.

Why we need to uplift voices and tell stories that matter.
THIS SHOW IS AN ELLY AND NORA CREATIVE PROJECT
How can we utilize storytelling to change the world around us? Today's guest is Emmy award winning documentary filmmaker, TedX speaker, and empowering storyteller with a background in television, Sarah Moshman! Sarah aims to tell stories with strong female role models to uplift, inform, and inspire the world around her. 
Sarah's work has been featured on Netflix, PBS, Upworthy, Marie Claire, CNN, and Good Morning America. Sarah has directed and produced 3 feature-length documentaries: The Empowerment Project: Ordinary Women Doing Extraordinary Things (2014), Losing Sight of Shore (2017) and NEVERTHELESS (2020) and her latest film is a narrative short about the 1st mother in space entitled UNBOUND starring Lauren Lapkus. Sarah is dedicated to telling stories that uplift, inform and inspire as well as showcase strong female role models on screen.Prior to focusing on documentaries Sarah worked as a field producer on the hit ABC show Dancing with the Stars for 10 seasons as well as shows on NBC, MTV, Lifetime, Bravo and the Food Network. She also directs branded content for EllenTube, Tastemade, Mattel, AT&T and more. Sarah is an inspiring public speaker, author, and an adjunct professor in documentary film, passionate about empowering the next generation of storytellers.
In this episode, we have a meaningful discussion about the true power of cinema, storytelling, and narrative. We get to hear about the important lessons of self-discovery and action Sarah learned during her filmmaking journeys, and how she seeks to redefine what 'extraordinary' really means. Through it all, we'll explore how to empower the next generation, create lasting ripple effects, and serve others by telling stories that matter. Join us in uncovering the inner power our narratives hold!
00:00 Introducing the Emmy award winning documentary filmmaker, Sarah Moshman, who uses the power of storytelling to uplift, inform, and inspire others!
03:35 What brought you to where you are today?
06:50 What was your experience like working on Dancing With the Stars?
09:50 How did you pivot back to storytelling?
12:45 What was the impact of The Empowerment Project?
16:10 Taking action to take risks for alignment.
19:25 How do stories create lasting ripple effects in our world?
21:35 How can we empower the next generation through intentional storytelling?
23:40 What did you work on next?
27:40 The hectic making behind Losing Sight of Shore.
32:50 What important lessons did you learn while making your second film?
38:10 How did you build trust and rapport over the journey?
41:50 What spurred you to tell the story of victims of sexual harrassment with NEVERTHELESS?
43:40 What newest project have you worked on?
47:35 What is your next phase as a narrative filmmaker?
49:10 What is your big dream?