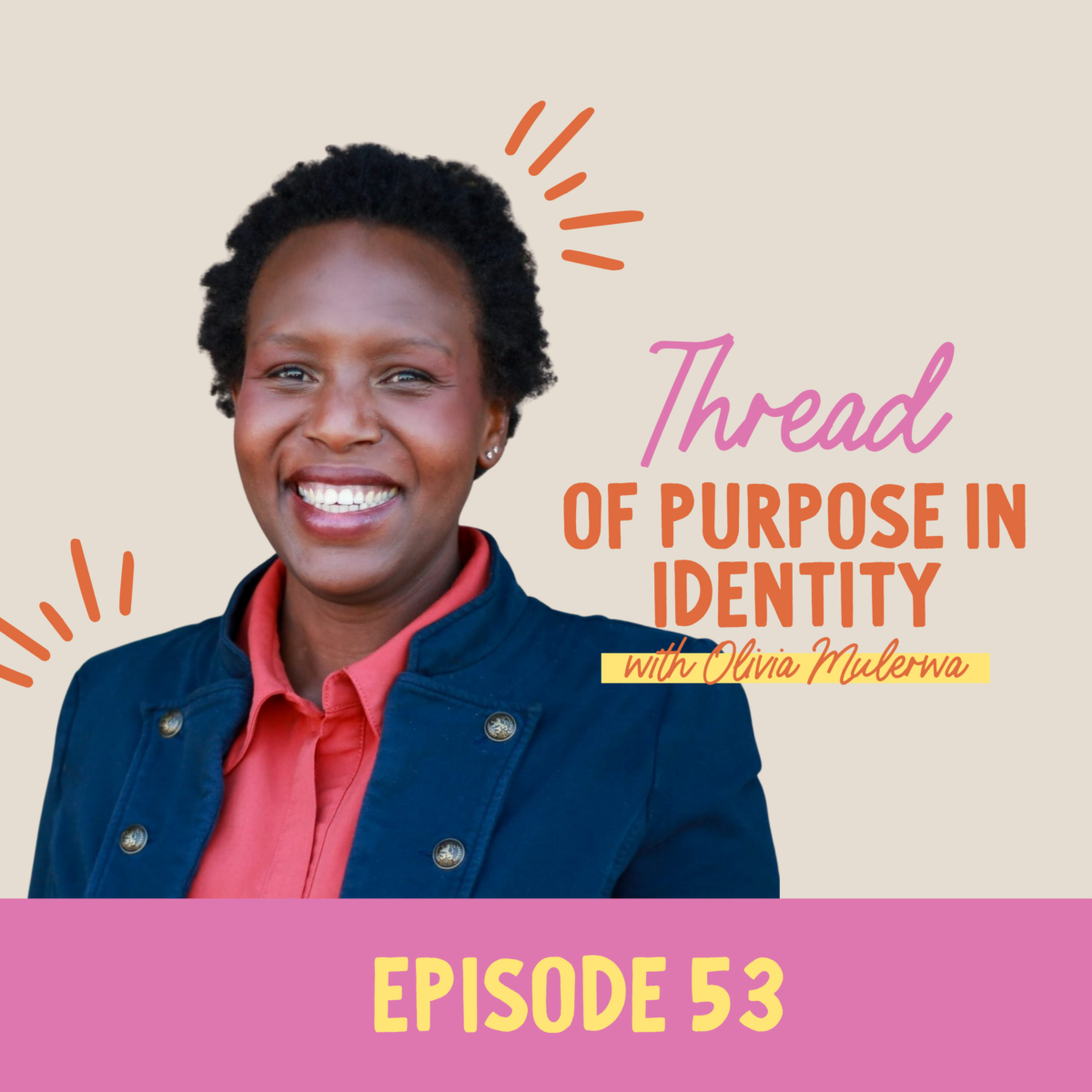 Episode 53- Olivia Mulerwa
IN THIS MEETING, WE CHAT ABOUT:
Finding, keeping, and reinventing our identities.

Becoming aware and listening to our true selves.

Understanding your purpose.

The common threads that tie us together.
THIS SHOW IS AN ELLY AND NORA CREATIVE PROJECT
What are the common threads that tie us all together? Today's guest, Olivia Mulerwa, is here to untangle those threads for us to see! Olivia brings years of experience in transitional justice, human rights, and international education to the Mission ONE team. Equipped with two master's degrees in law and international business, Olivia has worked for the Ministry of Justice of Rwanda where she authored Rwanda's first National Human Rights Policy and worked closely with the UN. Combining her extensive experience in international relationships and education, Olivia brings a fresh perspective and cultural intelligence to her role at Mission ONE. She leads M1's Project Team with enthusiasm and builds avenues for cross-cultural learning as they work together with their international partners.
As the interim president of Mission ONE, Olivia has valuable wisdom to share about identity, purpose, authenticity of the self, and much more. How do we define and redefine our identities? How can we learn to listen to our intuition? What can we do to show up authentically on online spaces? By the end of the episode, you'll be walking away with a new understanding of what your true self really means!
01:20 Meet the interim president of Mission ONE with a passion for justice and human rights, Olivia Mulerwa!
02:15 How did you get to where you are today?
07:55 Being the person who says yes.
09:35 How were you able to keep pieces of your identity after moving to Arizona?
12:00 Using your privilege.
15:00 What are the ways we restrict our purpose?
16:30 How do we choose to show up?
20:40 What are you grateful about from your journey?
22:30 What is the power of being able to reinvent yourself?
26:45 How do we become aware of ourselves?
29:45 Learning to listen.
33:00 How do we attract others to our authentic selves?
35:35 Recognizing the season of life you're in.
37:45 How does Mission ONE align with your purpose?
40:05 What attracted you to Mission ONE?
43:40 How can we see the good and humanness in others?
46:10 What is your vision as you step into a leadership role?
48:10 Nonprofit work versus full profit work.
50:40 How do you establish a true culture?