A few months ago I was invited to be a part of Downtown ASU's 411 Gallery's Exhibition. Located on the First and second floor of University Center Building in the most public space of the building to connect the community and the university. It showcases 300+ artworks and storyboards from local organizations and local & national artists. It rotates three times a year with each exhibition focused on a theme of contemporary relevance to the university and surrounding communities.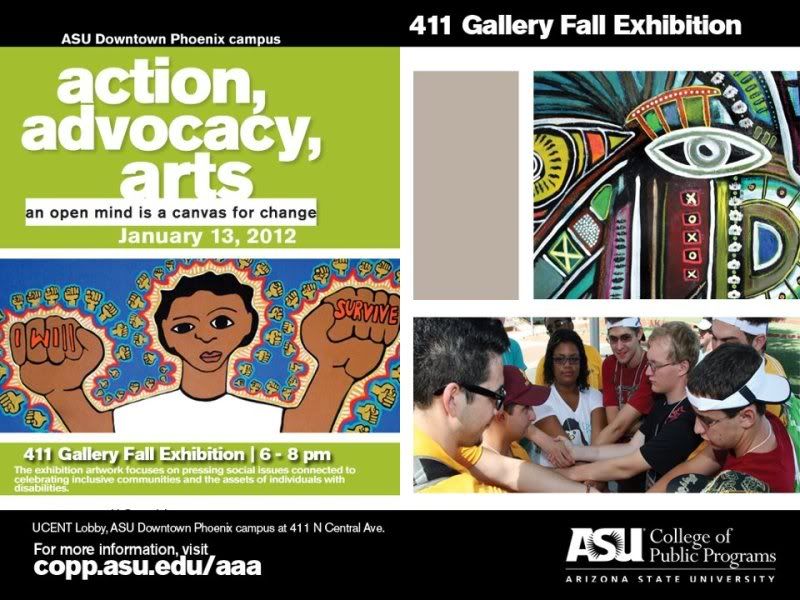 The 2012 Spring exhibition is a platform for the voices of organizations whose missions focus on social, economic, and environmental sustainability within Arizona. The Spring 2012 exhibition is inspired by research based out of ASU Morrison Institute for Public Policy, "Sustainability for Arizona: The Issue of Our Age".
The issue of sustainability is something that near and dear to me. We try very hard to use recycled materials in our shop and the whole idea of using something old for a new purpose is exciting to me. I knew that I wanted to explore that idea in my piece. I also knew that I wanted it to feel interactive and in parts functional. I also knew I would need some help.
I called on one of my super crafty friends Kat from the Southwest Scrap Exchange (more to come on the SSE later this week) to help me out. We met and almost instantly came up with an incredible concept and moved into full on create mode. Okay… I lied. We waited until the last possible minute and stayed up all night before the day of the install to complete it, in the meantime dragging our husbands into the stressful project. Ha. I feel better being honest with you guys.
Even after an all-nighter, several trips to the car and back, and a few hours of installation we managed to complete our masterpiece. We decided to go with an office scene, where some of the items are functional and some of them are purely representational. The whole idea is to inspire people to look beyond what an item was and see what it could be. With a little guidance and imagination, thrown away items can take on a new life in the form of crafts, art and other DIY projects for the home creating less waste for the environment.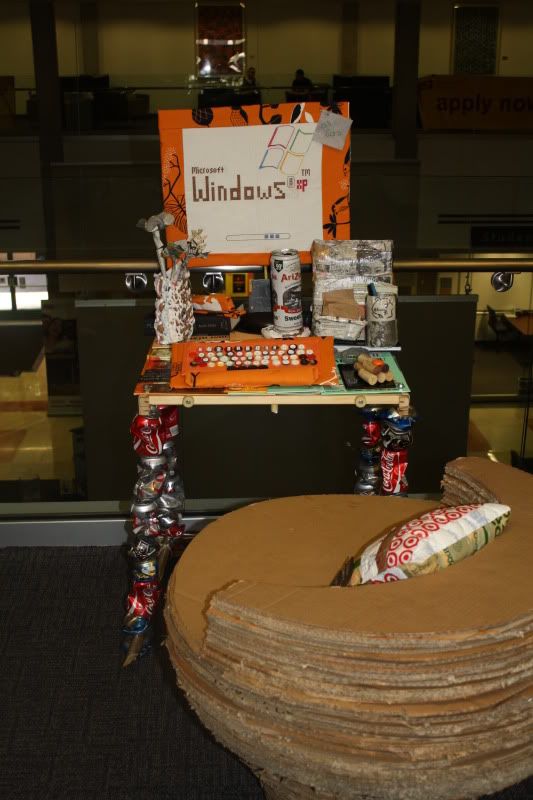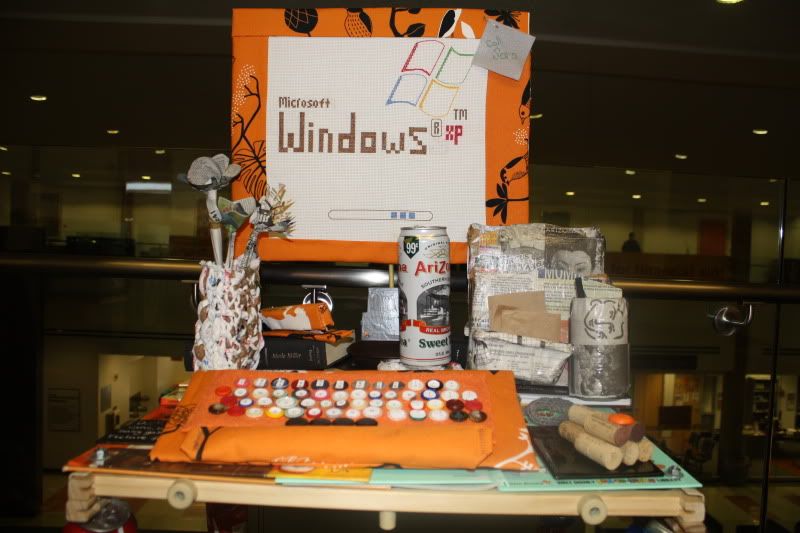 Kat made this AMAZING chair out of cardboard. I really think this is the best part of the whole piece. It is completely functional and interesting to look at as well. I made the throw pillow all from plastic grocery bags and recycled filler.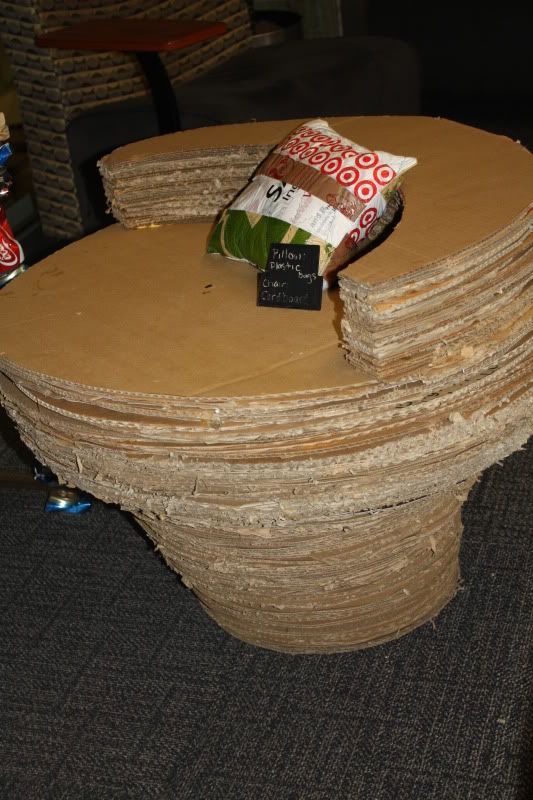 Kat also found a cross stitch at a thrift store and made this great computer screen from it along with cardboard and recycled curtains.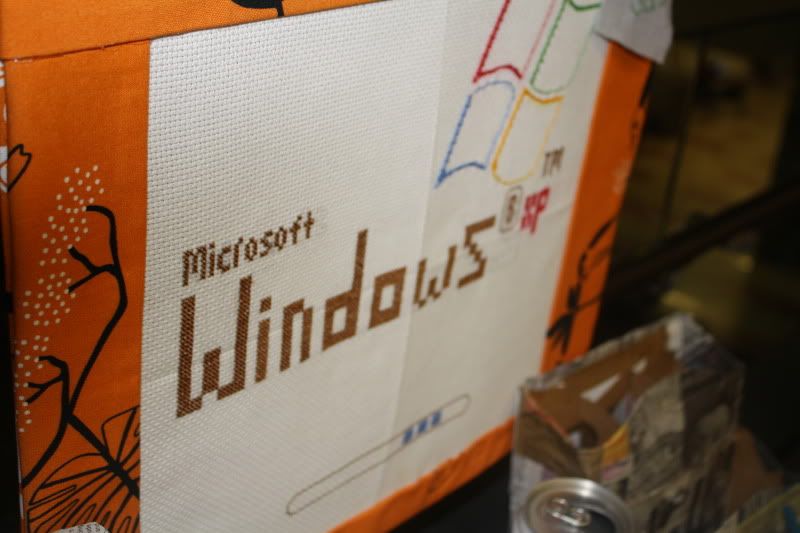 I made this desk organizer from the cardboard of a six-pack, the plastic container for blueberries, a peanut butter jar and newspaper.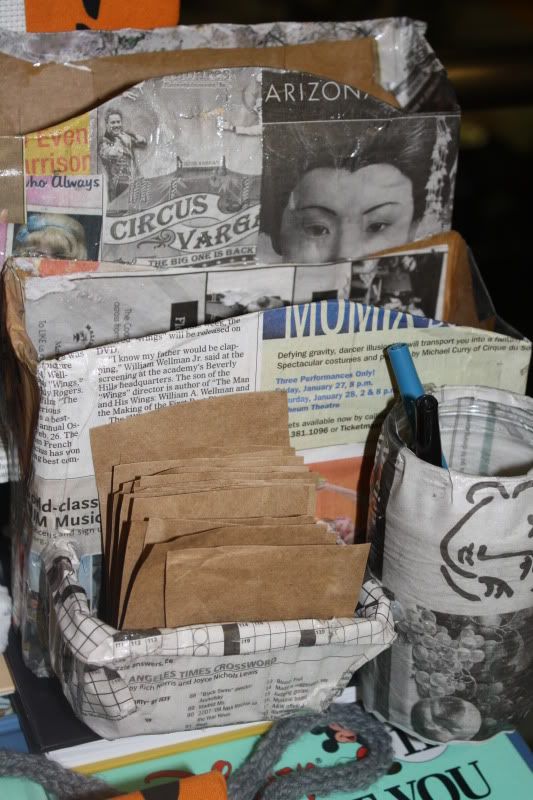 The desk was made from recycled books, a broken baby gate and aluminum cans.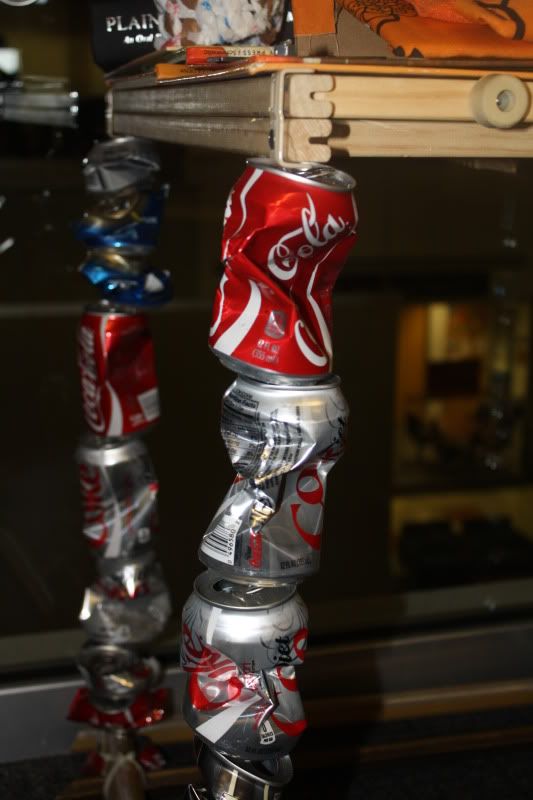 I whipped this little vase out of braided and weaved plastic bags. Then I added some newspaper flowers.
We also had a full keyboard, a mouse, and a stapler. I was pretty proud of the work that we had done. We were sure to celebrate with brunch after the install.
Here are some of my other favorite pieces from the gallery show.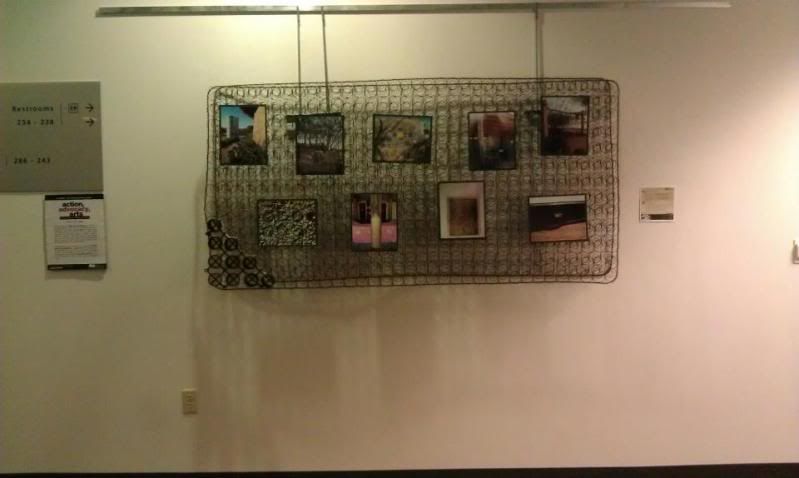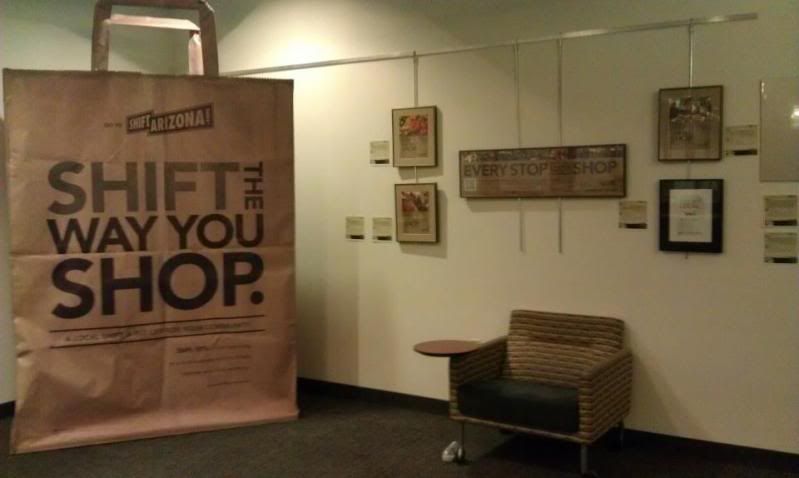 411 gallery exhibition on display for public viewing 8:00am-5:00pm daily, except for holidays from January 30, 2012 – May 11, 2012.
If you're in the Phoenix area, you should pop in and see it for yourself, it's free!