.
I'm so happy to have Laura here to share a few posts from time to time. Be sure to visit her over at her blog Sweet Paper Plane!
Hey guys! I'm excited to share my first DIY post in this space! This one is SO easy you'll kick yourself for not doing it sooner. Lately I've seen the old macrame style plant hangers pop up everywhere, and while they range from the basic one I'm about to show you, to extremely detailed and intricate ones, I thought it would be nice to start with a simpler design. Once you master this one, challenge yourself and go big!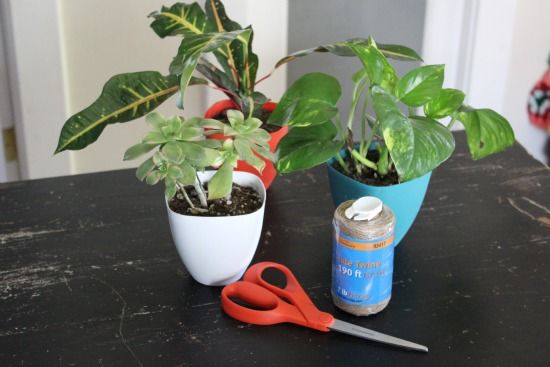 Here's what you'll need:
Twine
Scissors
Potted plants (for this project I chose lightweight plants in plastic pots; although twine is relatively strong, make sure your plant isn't too heavy.)
The first thing you do is cut eight pieces of twine and knot them together, leaving a bit of fringe at the end. I wanted my hanger extra long so I made my twine 48in in length, but you can adjust accordingly. Next, divide your strands into sets of two, and knot together. Ok this next step is the trickiest part of the whole project: take one piece of twine, and tie it to its neighbor (not the guy it's tied to, does that make sense?). Make a tight knot. You will begin making a net pattern this way. Repeat until you have two rows. Believe it or not: that is IT. You're done! Place your plant in the center of your net, bring the twine together and tie in a knot about 3/4 of the way up, then again near the top, leaving a loop for hanging.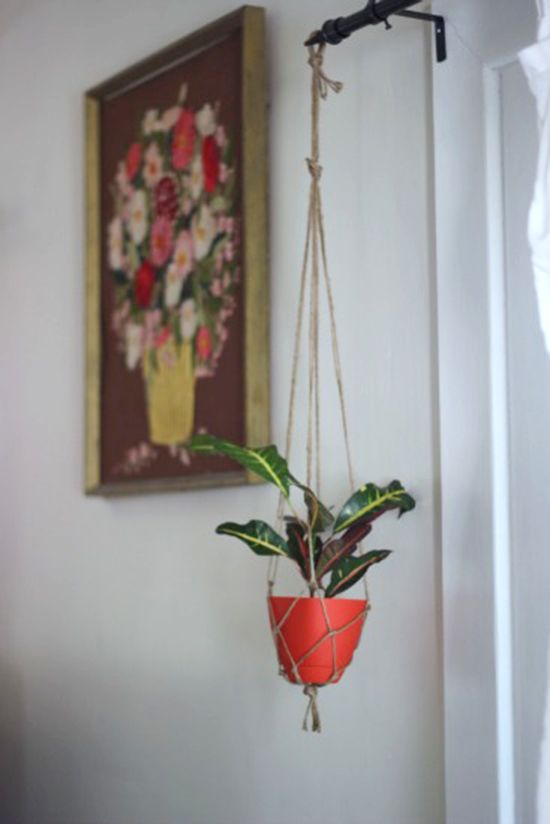 Like I said, this is SIMPLE. The finished hanger looks so great, and DIY is always best 😉 I can't wait to try this same method using thicker rope. The possibilities are endless!