One of the easiest ways to change up your decor and the feel of your house is pillows. I love using them to add seasonal touches to our place. I'm really loving the floral print mixed with a bold black and white graphic for Fall. I think it makes for an interesting look and I like bold prints on our neutral couch, so I put together this toss pillow. I also think that burlap screams colder climates and doilies on the burlap makes for a neutral pillow that can easily transition into Winter.
Here's how you can make both.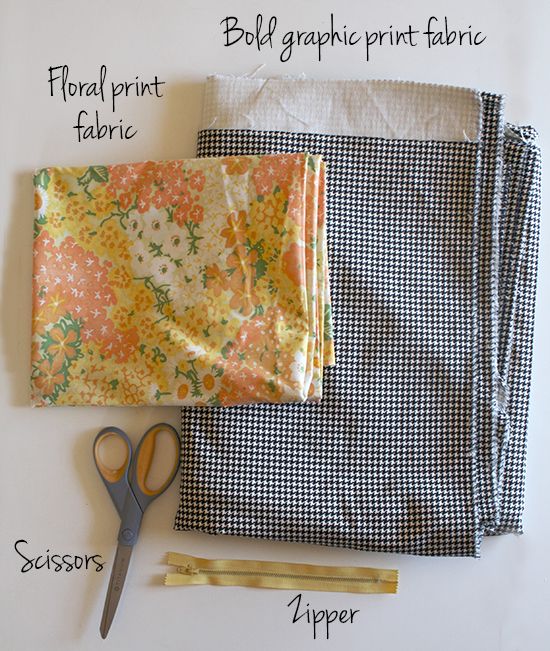 You will also need a sewing machine, and either a pillow form or stuffing.
1. Cut two pieces of your bold fabric the size of your pillow form or the size you'd like your pillow to be once it's stuffed. Make sure to leave some room on each side for seam allowance and room to stuff the pillow. 2. Cut your floral fabric into strips that are about 3-4 inches wide and are about 2 inches longer than your pillow. 3. Place your bold fabrics right sides together. 5. Fold the strips in half with the wrong sides together and pin to the inside of the bold fabric where the fold is inside. 6. Repeat on 3 sides of the pillow and make sure that the edges of the floral strips overlap. 7. Stitch all around the 3 sides of the pillow making sure to capture both sides of the bold print and the floral print in between. 8. Pin the last floral strip on the fourth side and repeat the same stitch leaving the length of your zipper open. 9. Pin and stitch in your zipper to the opening. 10. Flip right side out, stuff, and zip closed.
The edges should fold over to one side creating a sort of border for the pillows.
Note: I like to add the zipper so that I can remove the cover and wash. If you'd like to just sew it closed all around you can certainly do that.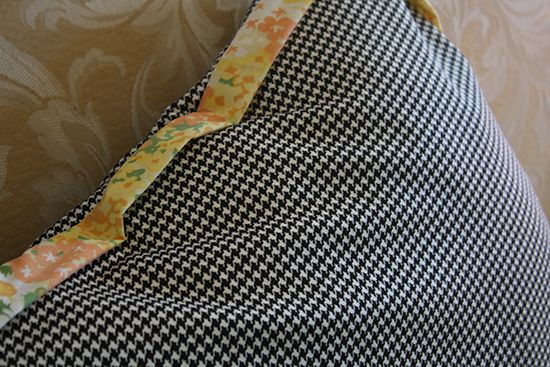 The burlap pillow was a much easier process. 1.Cut the burlap into two pieces the size pillow desired. 2. Stitch the doilies to one of the sides using a white thread so it won't really show. 3. Pin the 2 sides with right sides facing. 4. Stitch all along the outside leaving a space to turn it. 5. Turn right side out and stuff. 6. Stitch up the hole to close.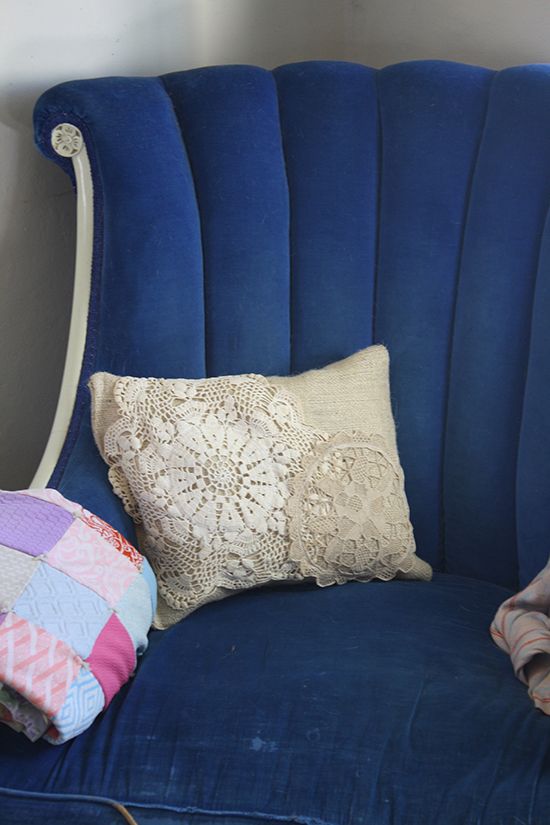 I thought this pillow really looked great on my bright blue chair.
Also…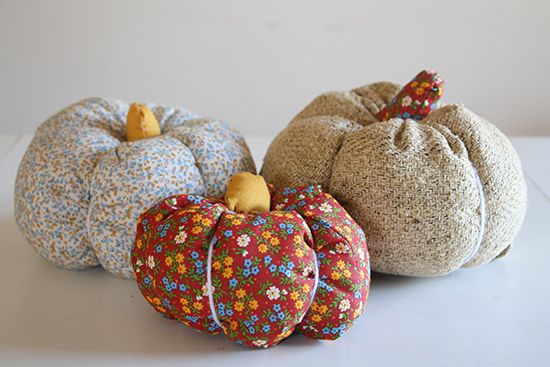 I know these aren't technically pillows, but they're stuffed and still super cute. I made these pumpkins last year as was so happy that I found them in the mess of our garage in time to enjoy them for Fall this year. The full tutorial for these are over on Danielle's cute blog. I'm tempted to make more. Let me know if you make any pillows for Fall!